International Area Codes
How to Make International Phone Calls Using Dialing Codes
If you need to make calls outside of the United States or Canada, you will need to use dialing codes to get it done.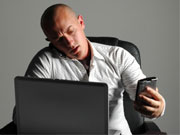 To do this, you dial "011" on your phone, then enter the country code number for the country you are trying to call. After this, you will need to enter the code for the city you are calling as well as the phone number.
If you are making calls to Canada from the United States or from Canada to the United States, you only need to dial 1 plus the area code just like you would from anywhere within the country.
There are number of good places to lookup international dialing codes (area codes). One of the best and easiest solutions is Countrycallingcodes.com. At this site, you can lookup the calling code for countries throughout the world.
REVERSE SEARCH TIP: If you have an international phone number that has shown up on your Caller ID and you want to do a reverse phone search, you will need to visit a site like the International Phone Registry. This site can help you research phone numbers all over the world. Click Here to Go there now.